Home is where the heart is.
Step into a friendly and informal workspace where creativity and productivity are the order of the day!
Located on the South Shore of Montreal, our studio is easily accessible by car or public transportation.
The studio includes a recording room with professional acoustic treatment, a control room and an adjacent relaxation area.
We use state-of-the-art equipment and software to produce high-quality professional results.
Recording room
Acoustic treatment (reflection-free zone)
Dimensions: 11 x 8 feet
Soundproof window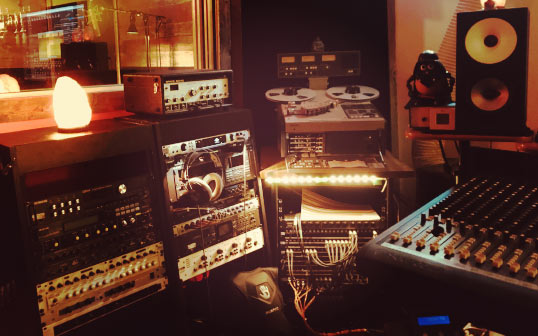 Équipement and software
Gefell UM 92.1 S Microphone
Neumann TLM102 & 103 Microphones
Shure SM7B Microphone
Sennheiser MKH-416 Microphone
Universal Audio Preamplifier
Focusrite ISA Preamplifier
Open Broadcaster Software (OBS)
Apple Operating System (Mac OS X)
Avid Pro Tools|HD
Soundminer Pro
Reaper
Adobe Audition
Source-Connect Now
Control room
Soundcraft Ghost Mixer Console
Two points of "talk back" to the artists
Several independent headphone mixes
Stereo and 5.1 Editing and Mixing to ATSC broadcast standards
Sound banks from Sound Ideas, Boom Library, Hollywood Edge and others
High-precision monitors (Amphion one18 and Subwoofer 15" Paradigm Reference)
Secondary listening monitor (Auratone original)
Relaxation area
Warm atmosphere
Stress-free zone
Mokita Expresso machine